Communicating with charisma comes from unleashing the unique leadership qualities inside of you that make you unlike anyone else.
The Charisma Hacks podcast is free! to listen on all your favorite channels. Subscribe and don't miss any of the weekly shows. Currently these platforms are available (more to come soon):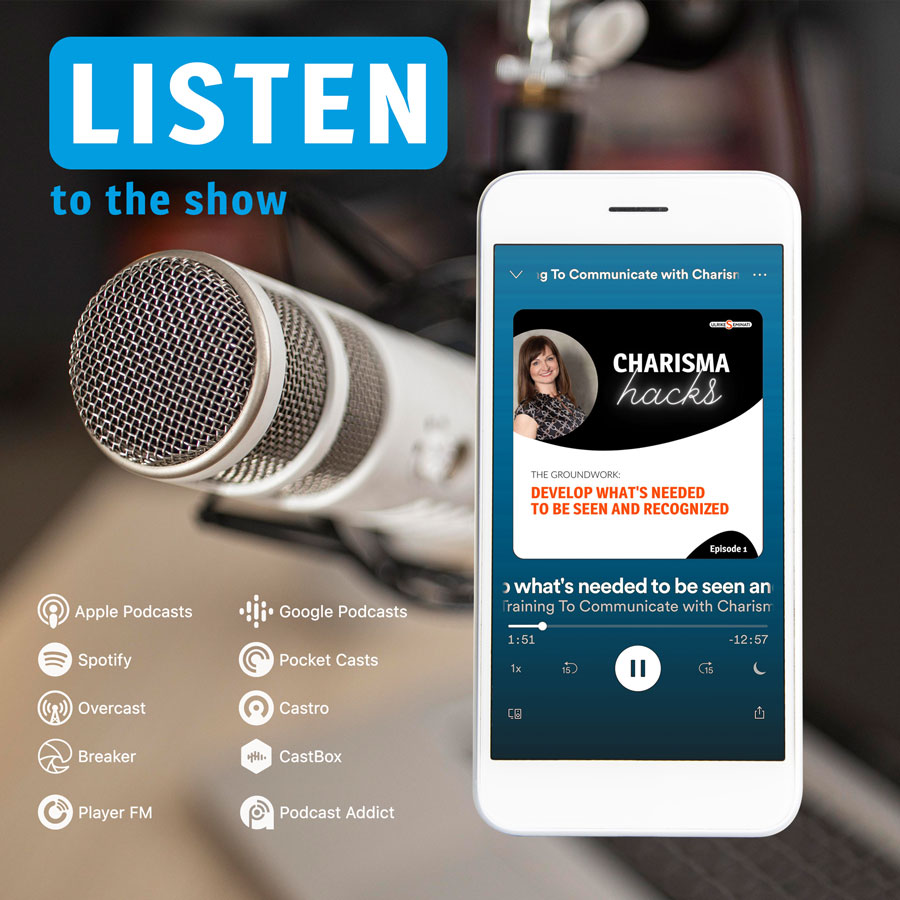 To make this podcast as valuable and useful as possible for you, I am highly interested in learning about your questions and challenges about how to become more charismatic. What do you want to know, what is important for you?
toolbox:
communicate with charisma
Do you want to be listened to and recognized for your competencies? Get
free!
access to this comprehensive toolbox to level up your profile and communicate, engage and motivate in an inspiring and authentic way:
If you want to find out what exactly you can do to level up your profile – book a free personal call with me directly in my calendar!
I am wholeheartedly dedicated to empowering leaders to connect with their authentic self so that they can sparkle from the inside and lead and communicate with charisma.
Before I decided to follow my calling in 2019, I had an over 20 years long corporate career that took me through all levels of the hierarchy. I started as an assistant in the 1990s and managed to climb up the whole hierarchy ladder until being appointed to the Executive Committee of an international pharmaceutical company in 2015.
I took over my first team when I was 27. At the time, I was working in a large European automotive plant, in a work environment where 80% of the employees were men. And what a headwind I faced! For many of my male colleagues, it was unthinkable to accept a young woman (a "girl!") in my role as a communications leader supposed to talk about cars and technology!
Those were pretty tough times for me early on in my career and I learned how difficult it can be to stay true to yourself while positioning yourself as a talented leader.
And yes, I fell into the trap of making the mistake of ruminating about how I SHOULD BE to be successful instead of getting clarity of who I WAS!
It was many years later that I asked myself how it could be that I felt like missing out on my potential – despite my successful career! And I understood that I had been role-playing to show up as the perfect leader all these years. I had been following existing role models and behaviors, which to a large extent did not do justice to my authentic self. I always had the feeling that I had to fight for recognition, that I was not really taken seriously, not listened to, not recognized for my competencies.
When I finally opened my eyes I realized how many other leaders, especially young women, were struggling with similar challenges. So I decided to drop my corporate career and to make it my mission to help other women to step up and into their authenticity.
And when you step into your authenticity you will start to shine from the inside and this is how you bring in all your precious perspectives and lead and inspire others with charisma.
Once I understood that the keys to fulfilling success sit right between my ears I stopped to search for reasons in the outside world and started to seriously work on myself.
It changed everything for me. It will also change everything for you if you are willing to take this path.
​I am looking forward to working with you personally!
​Warm regards,